CR 10 FAIRPOINT-MAYNARD – CLOSED NOVEMBER 15TH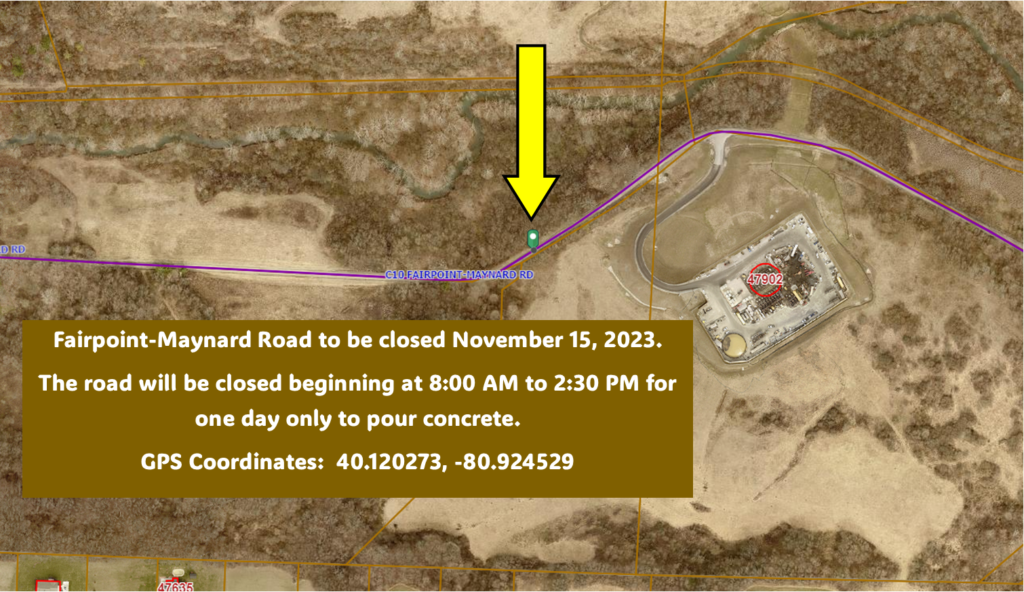 CR 10 FAIRPOINT-MAYNARD – CLOSED OCTOBER 31ST – COMPLETE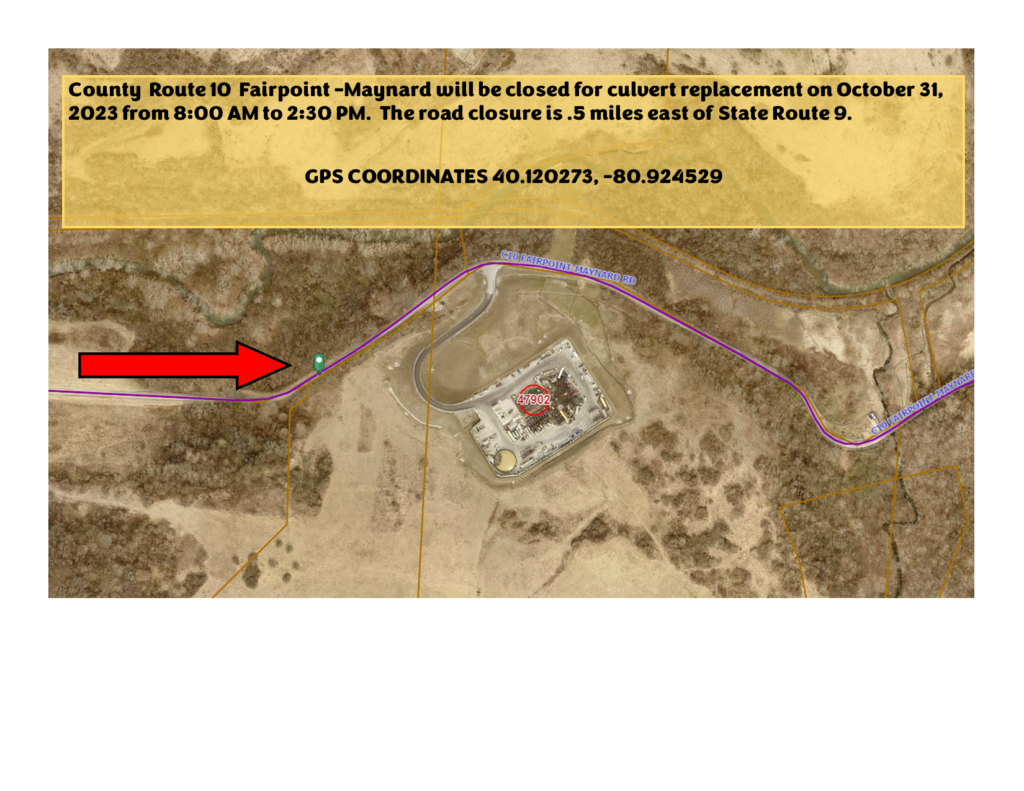 T289 CUMBERLAND RUN CLOSED FOR BRIDGE REPLACEMENT – COMPLETE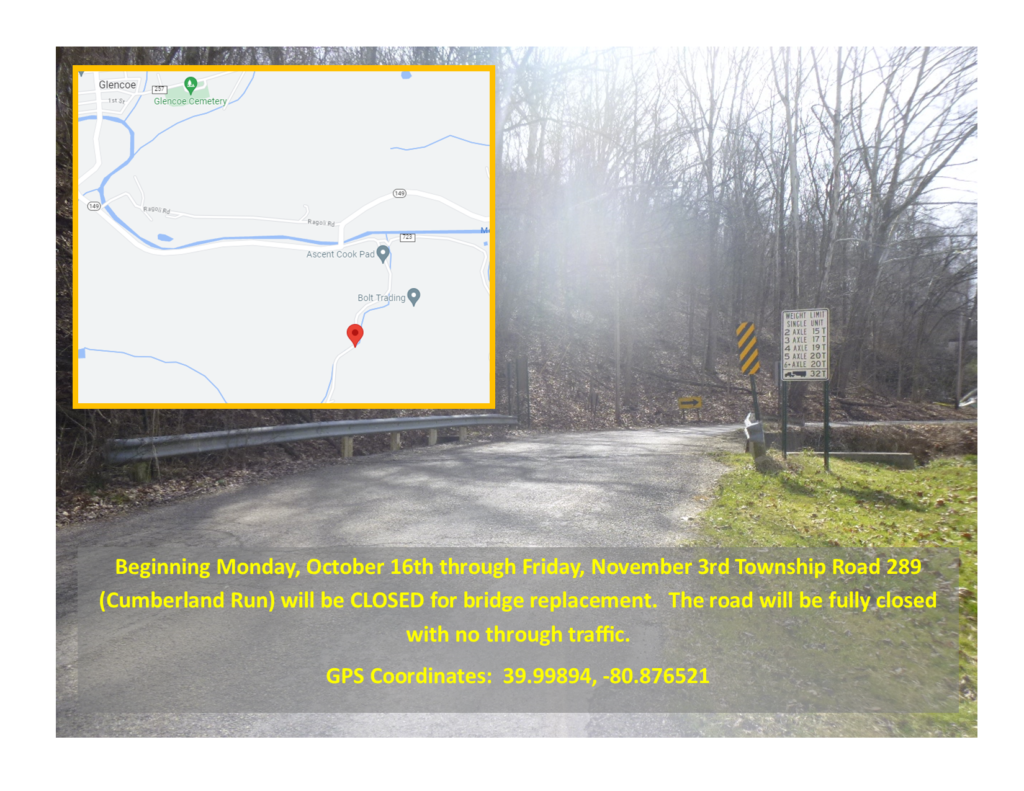 NOTICE OF CLOSURE: CR 22 FERRYVIEW ROAD – COMPLETE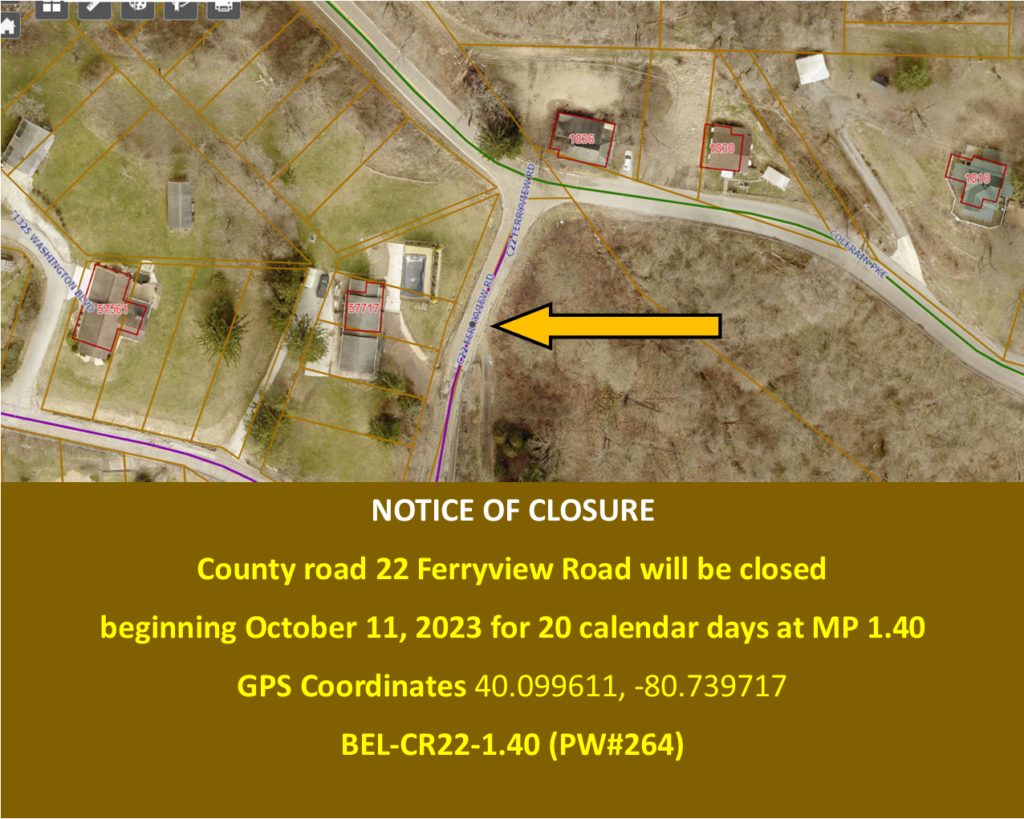 NOTICE OF CLOSURE: CR 44 WINDING HILL ROAD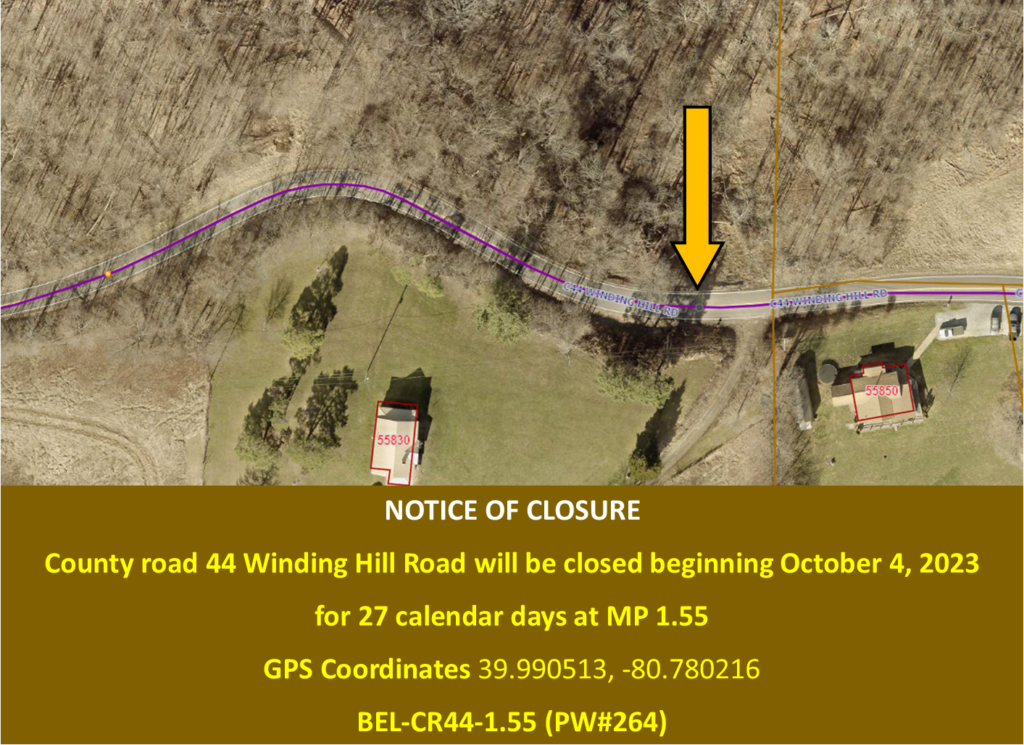 NOTICE OF CLOSURE: CR 56 MT VICTORY – 3 LOCATIONS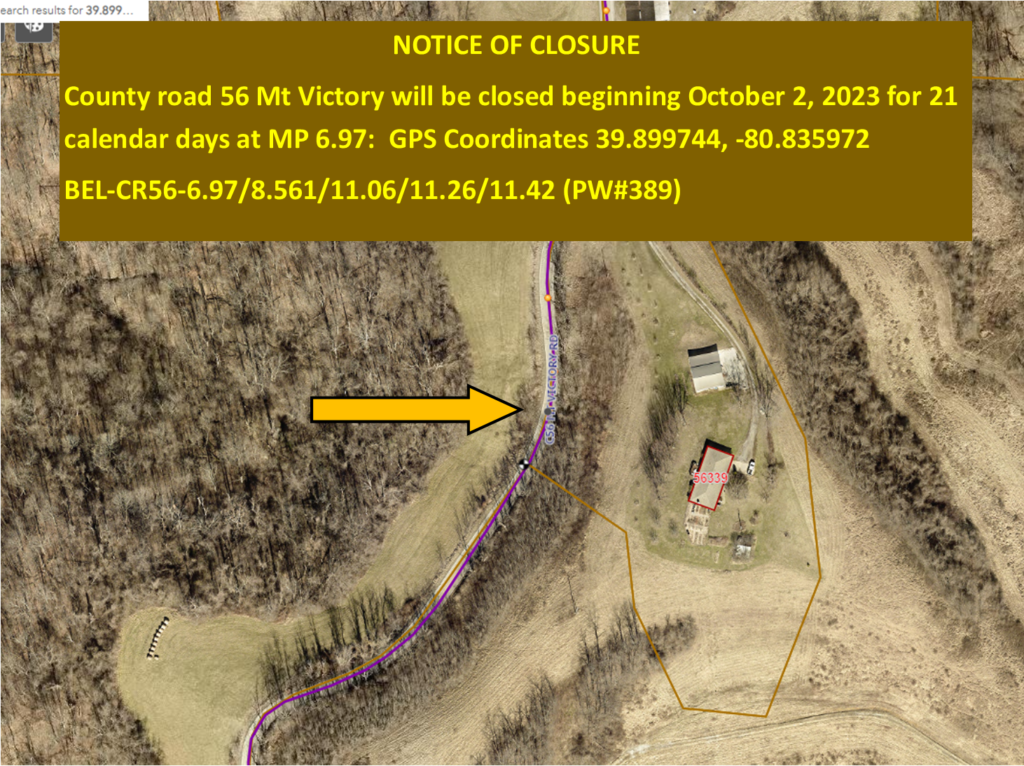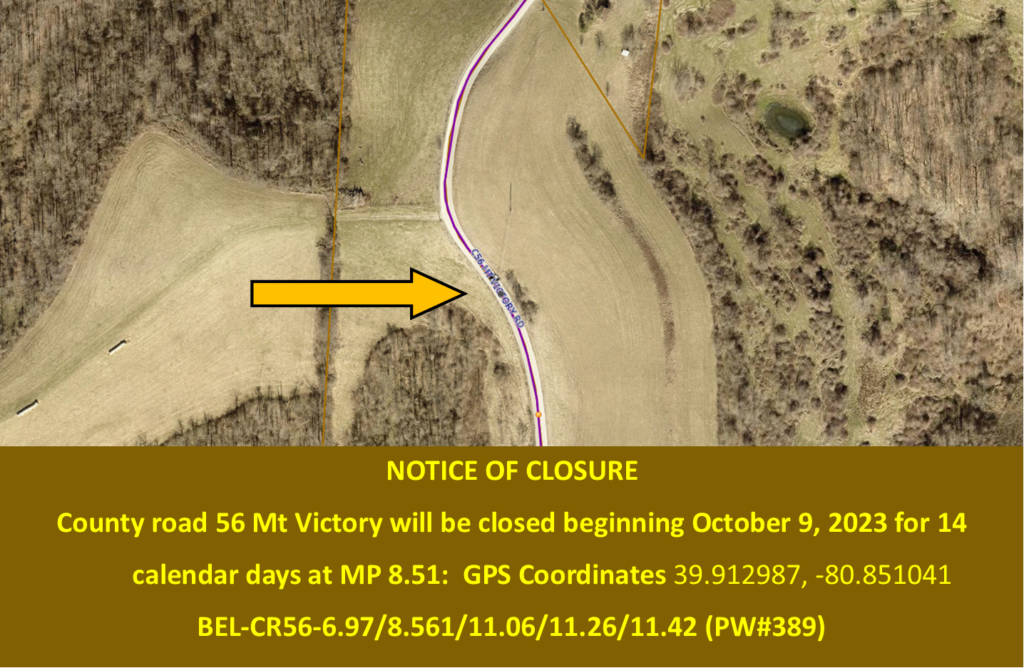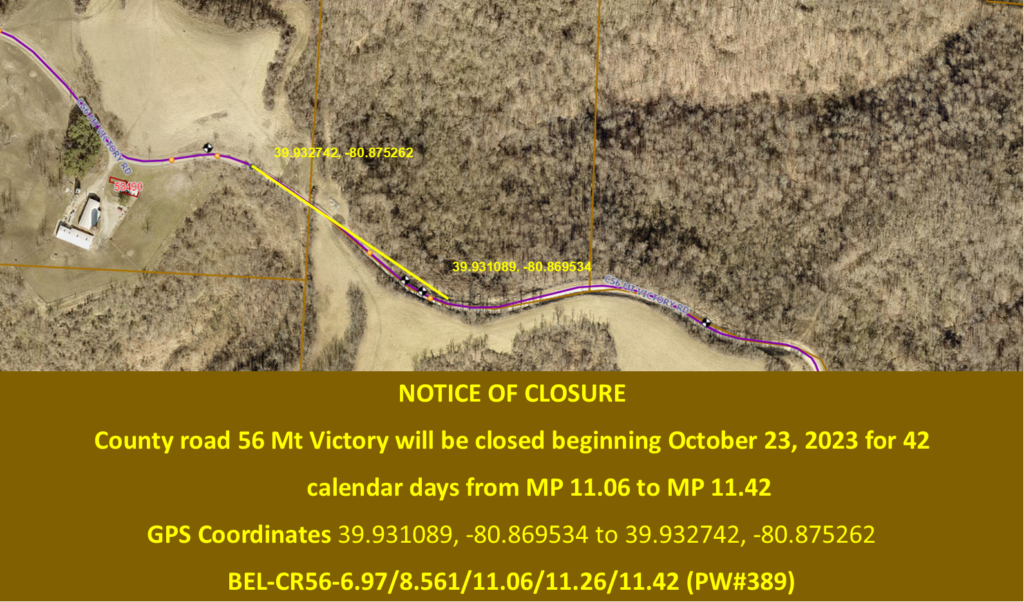 Press Release- September 1, 2023
GLENNS RUN ROAD BRIDGE REPLACEMENT –
2025 PROJECT
Belmont County Engineer's Office Announces
Glenns Run Road Bridge Replacement
ODOT Project No. BEL-CR 4-27.05; (PID 117373)
The Belmont County Engineer's Office, in cooperation with the Ohio Department of Transportation (ODOT), proposes to replace the bridge carrying Glenns Run Road (County Road 4) over Glenns Run in Pease Township, Belmont County, Ohio. The bridge is located approximately 1/4 mile west of Nixon Run Road.
The existing single-span steel pony truss bridge was built in 1993 and was deemed structurally deficient based on a recent inspection. The bridge will be replaced with a single-span galvanized steel beam bridge with minor alignment adjustments. Minor impacts to Glenns Run and suitable wooded habitat for endangered bat species will occur. Right-of-way acquisition is anticipated for the project. Construction work is expected to begin in the summer of 2025 and be completed in the winter of 2025.
The proposed bridge replacement operations will require closure of Glenns Run Road at Glenns Run. During the construction phase of the project, Traffic will be detoured utilizing State Route 647 to State Route 7 to County Road 4. Access shall be maintained to all adjacent properties for the duration of the project. Substantial traffic disruptions are not expected with the project.
The project will not result in any substantial impacts to environmental resources. The Belmont County Engineer's Office is requesting that any comments you may have regarding the proposed project and/or environmental impacts be submitted by October 1, 2023 to:
Belmont County Engineer's Office
Attention: Terry D. Lively, P.S., P.E., County Engineer
101 W Main St
St Clairsville, OH 43950
Phone: (740) 699-2160
The Ohio Department of Transportation and Belmont County Engineer are committed to providing access and inclusion and reasonable accommodation in its services, activities, programs, and employment opportunities in accordance with the Americans with Disabilities Act (ADA) and other applicable laws. To request language interpretation or translation services or a reasonable accommodation due to a disability to participate in ODOT's project development process, please contact Thomas Stratton at 330-308-3992 or thomas.stratton@dot.ohio.gov no later than September 15, 2023. Public participation is solicited without regard to race, color, sex, age, national origin, or disability.
For further project information go to the Belmont County Engineer website:
https://belmontcountyengineer.com/
DETOUR MAP
CR 56 MT. VICTORY ROAD – CLOSING SEPTEMBER 12, 2023
BEL-CR 56 – 5.02 (PW #296) Coordinates: 39.879145, -80.824196 Slip repair will take an estimated 28 days.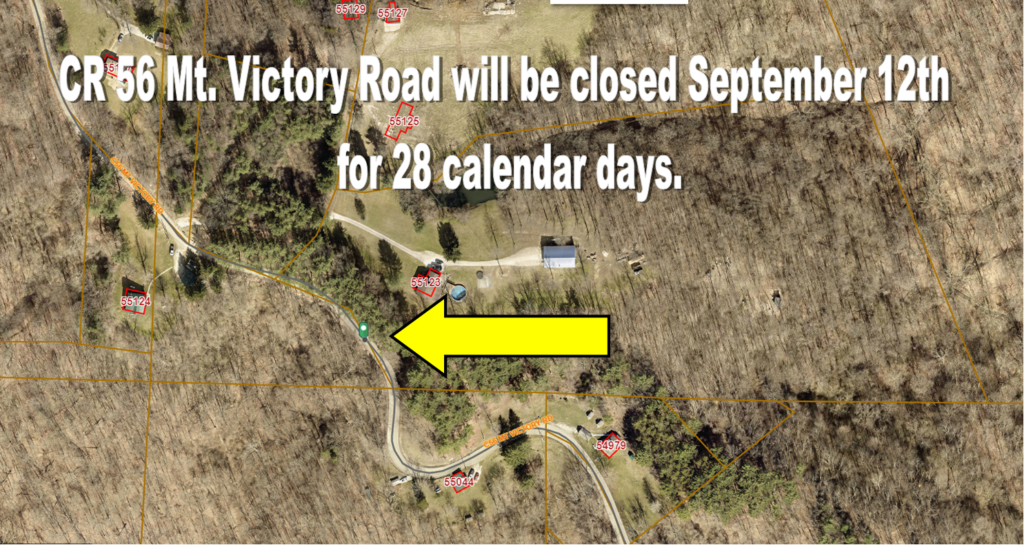 CR 34 HOSPITAL ROAD – CLOSING SEPTEMBER 12, 2023
BEL-CR 34 – 2.52 (PW #96) Coordinates: 40.032245, -80.741381 Slip repair will take an estimated 28 days.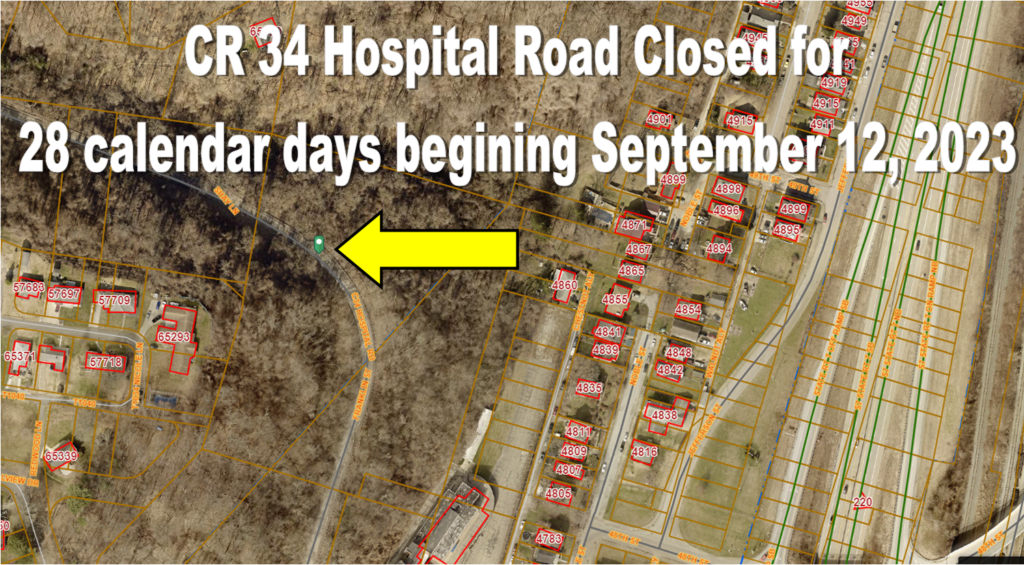 CR 128 BOSTON ROAD – CLOSING AUGUST 29, 2023 – COMPLETE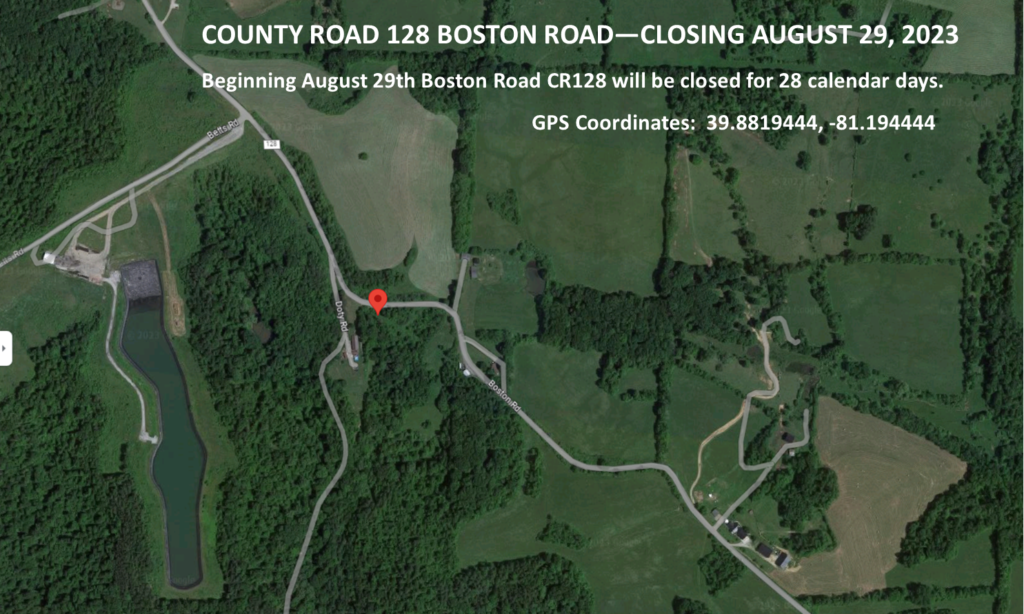 CR 120 DOUGLAS ROAD – CLOSING SEPTEMBER 5, 2023 – COMPLETE
Please be advised that the GPS coordinates listed in this picture are incorrect. The correct coordinates are 39.972222, -81.2191667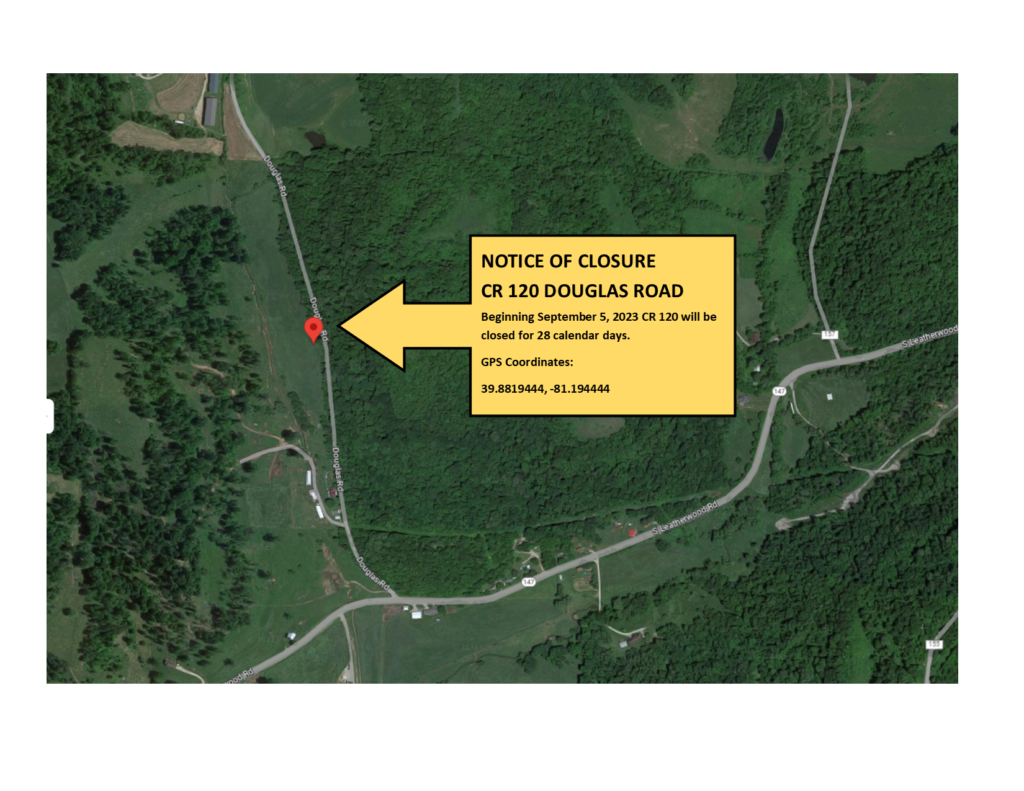 SLIP REPAIR CR114 HIGH RIDGE ROAD – ONE LANE CLOSED – COMPLETE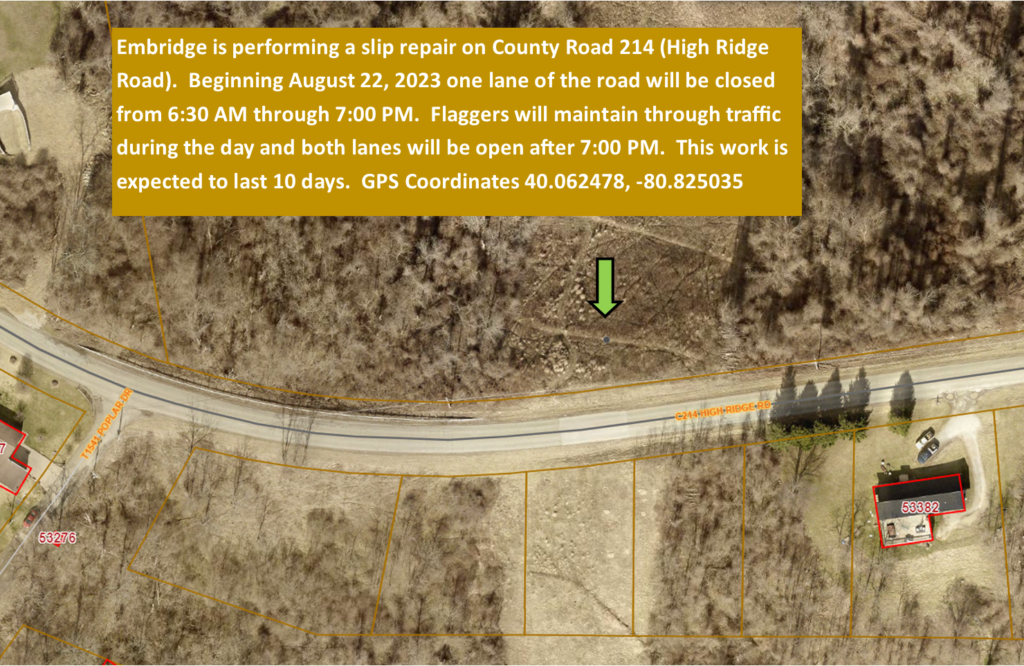 SLOANS RUN BRIDGE REPLACEMENT – FULL CLOSURE OF T704 – COMPLETE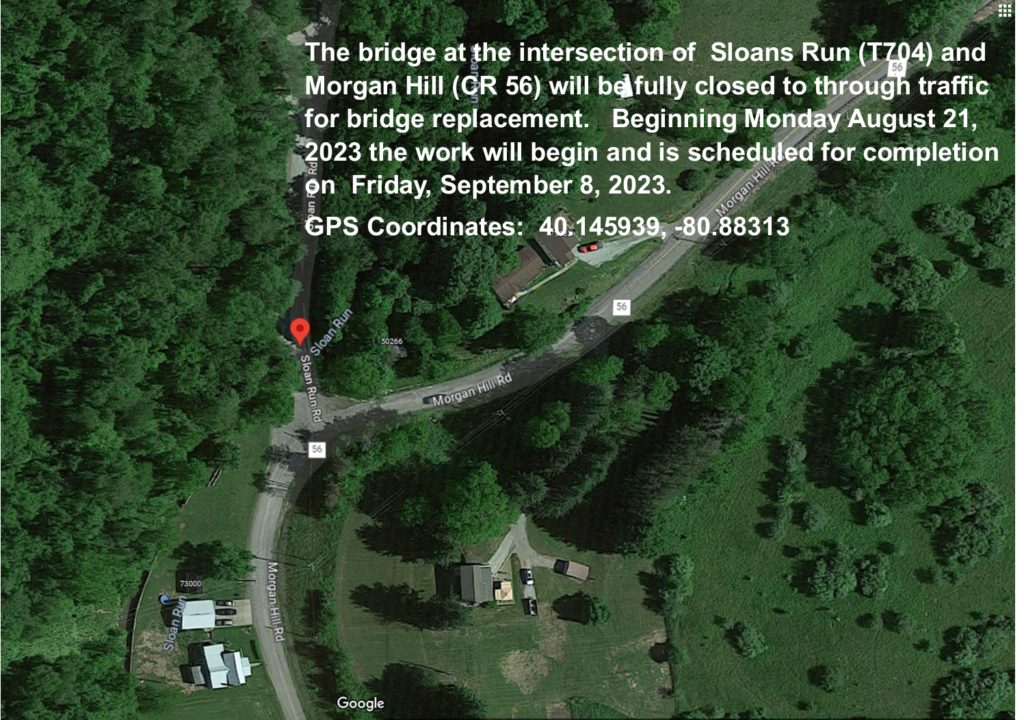 CR 4 BARTON COLERAIN ROAD CLOSURE(S) – COMPLETE
Beginning Monday August 21st County Route 4 Barton Colerain Road will have 3 separate sites with one-lane closures. Flaggers will be on site during the day to direct traffic, and the roads will be open in the evening. Work should be completed by Thursday, August 24th.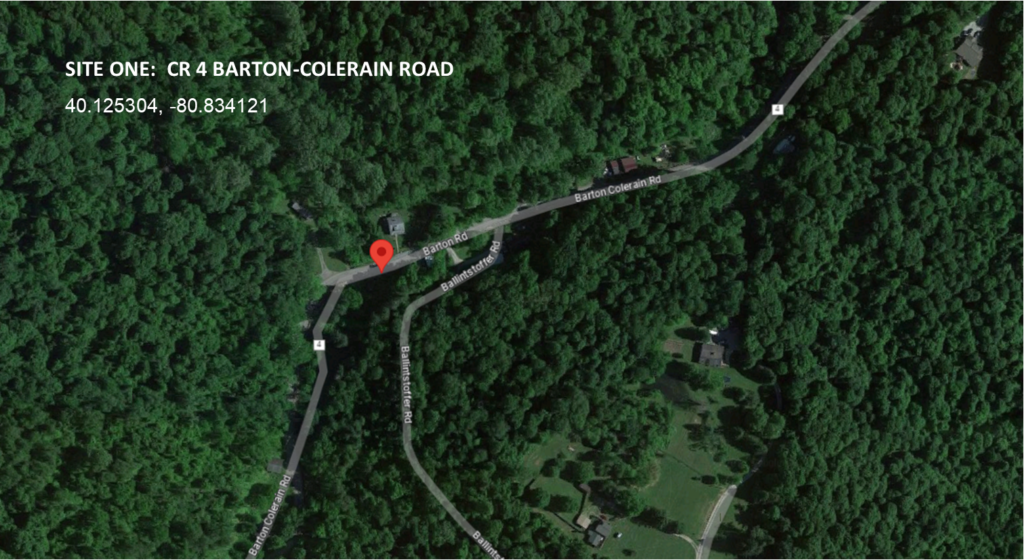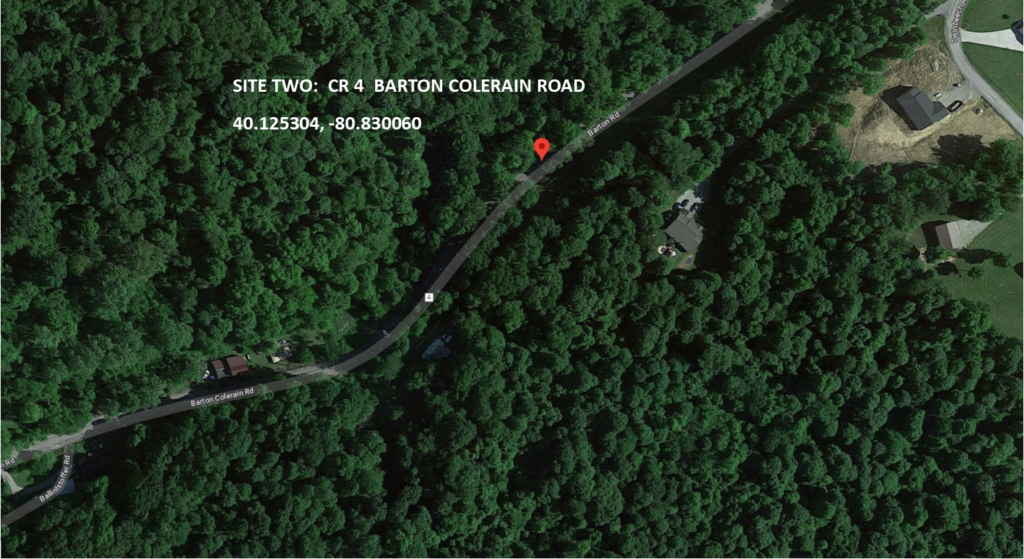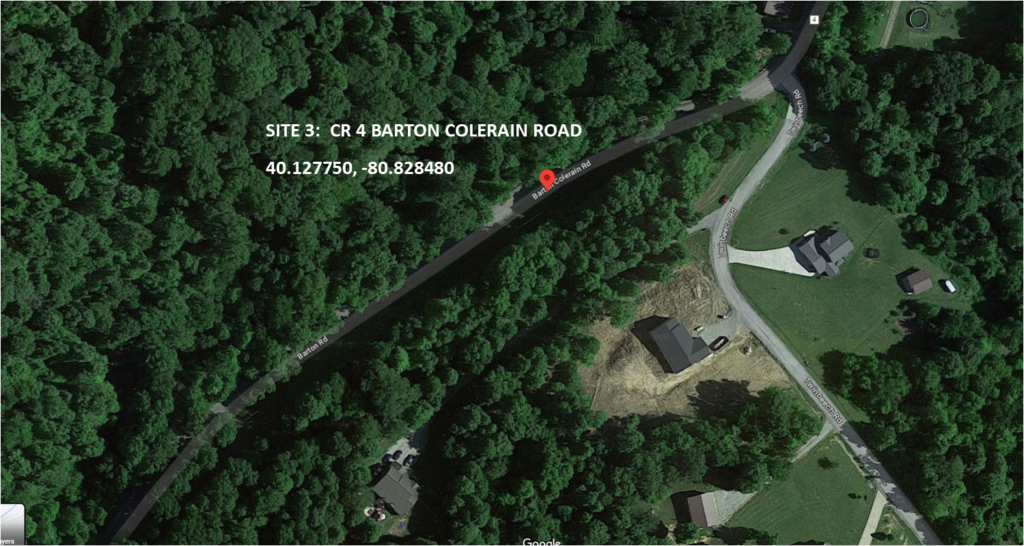 CR 42 – FULTON HILL ROAD OR BELL HAVEN WILL HAVE TWO SEPARATE FULL CLOSURES – COMPLETE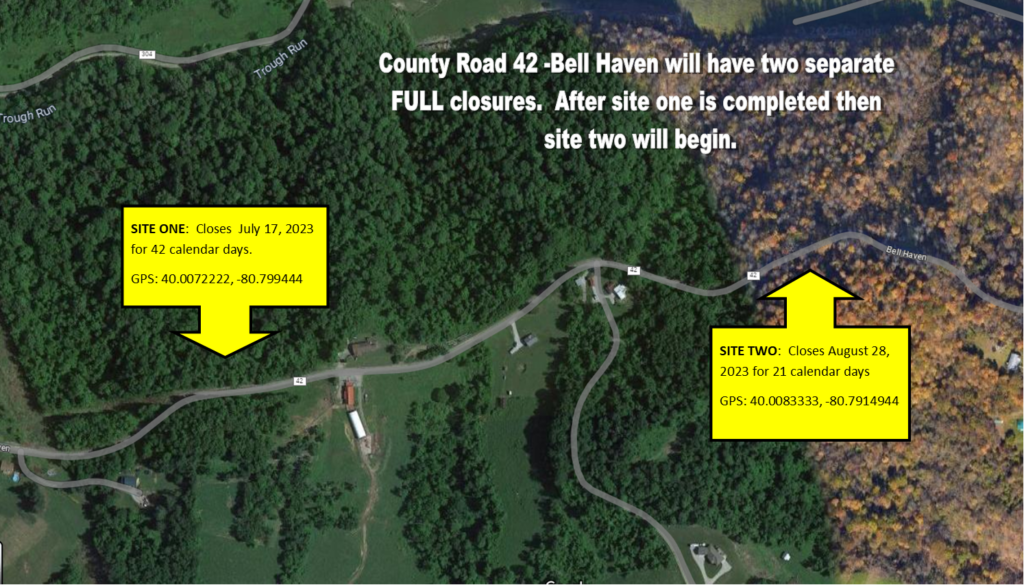 CR 2 DEEP RUN ROAD CLOSED MAY 15, 2023 – COMPLETE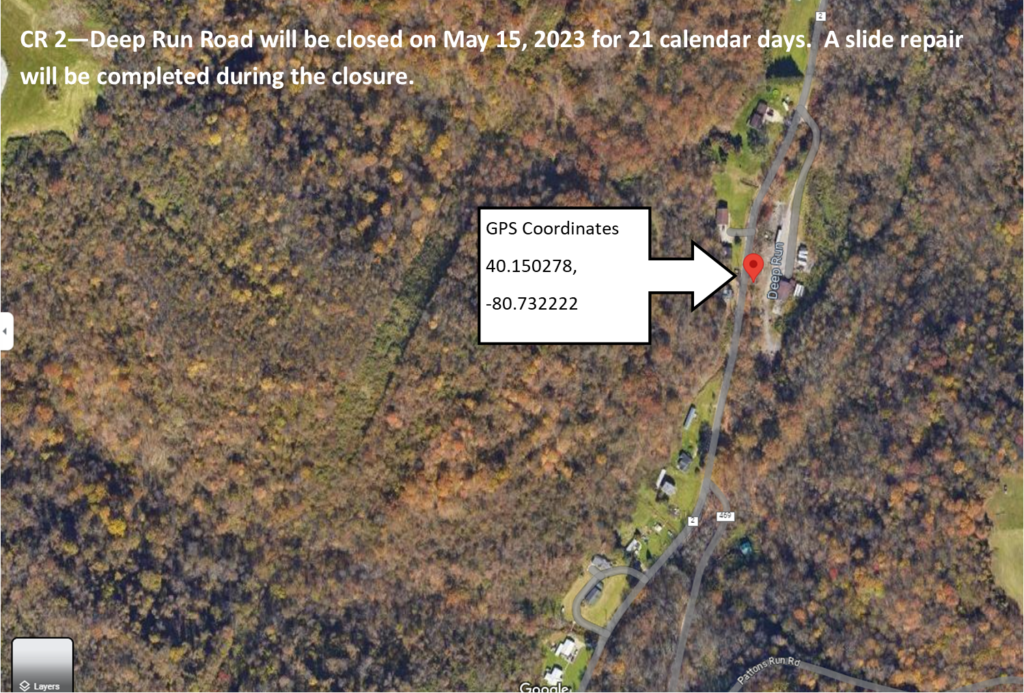 CR 5 CRESCENT-PLEASANT GROVE ROAD WILL BE CLOSED MAY 1, 2023
CR 2 DEEP RUN CLOSED APRIL 13, 2023 – COMPLETE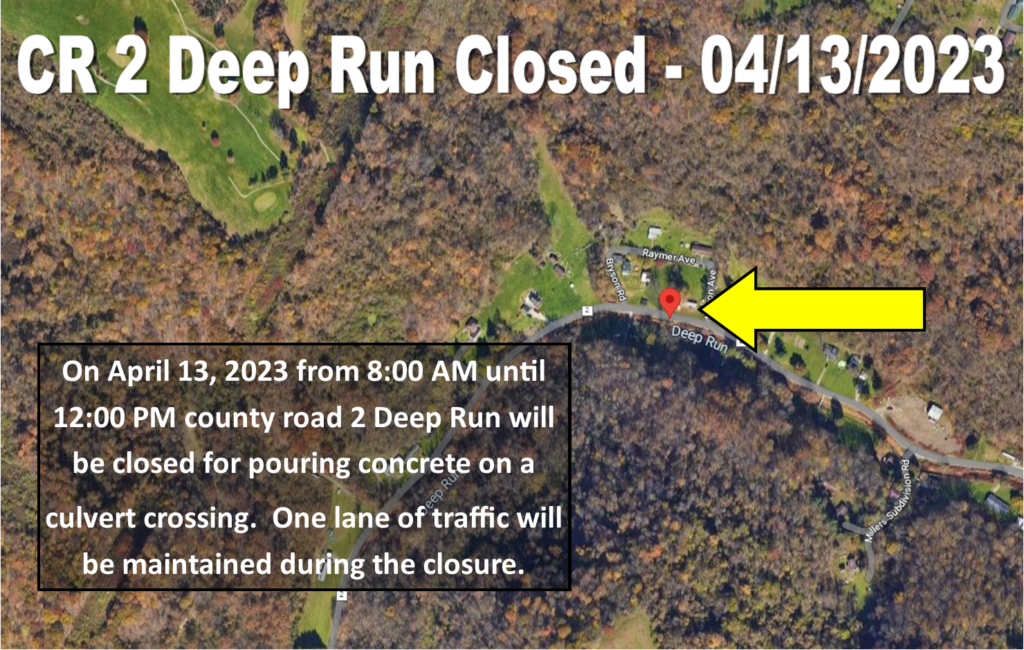 CR 2 DEEP RUN CLOSED APRIL 12, 2023 – COMPLETE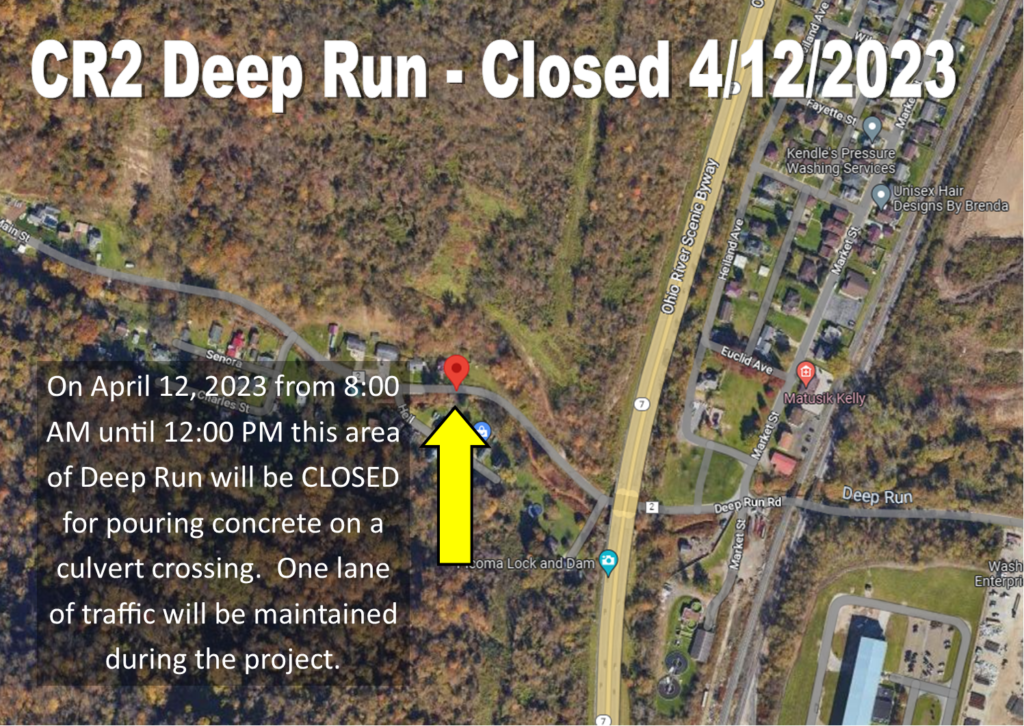 CR 72 MT HOPE ROAD -CLOSED MARCH 14, 2023 – COMPLETE
ONE DAY CLOSURE – CR 2 DEEP RUN MARCH 8TH – COMPLETE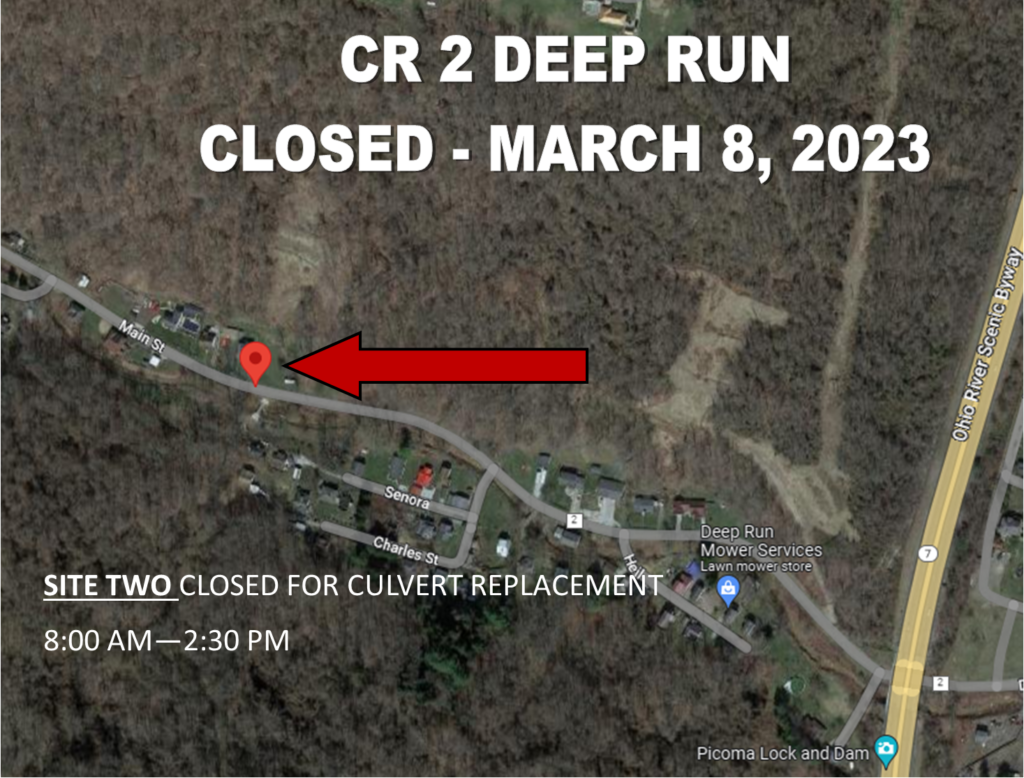 ONE DAY CLOSURE – CR 2 DEEP RUN MARCH 7TH – COMPLETE
CR 5 Ramsey Ridge – Temporary Closure February 21, 2023 – COMPLETE